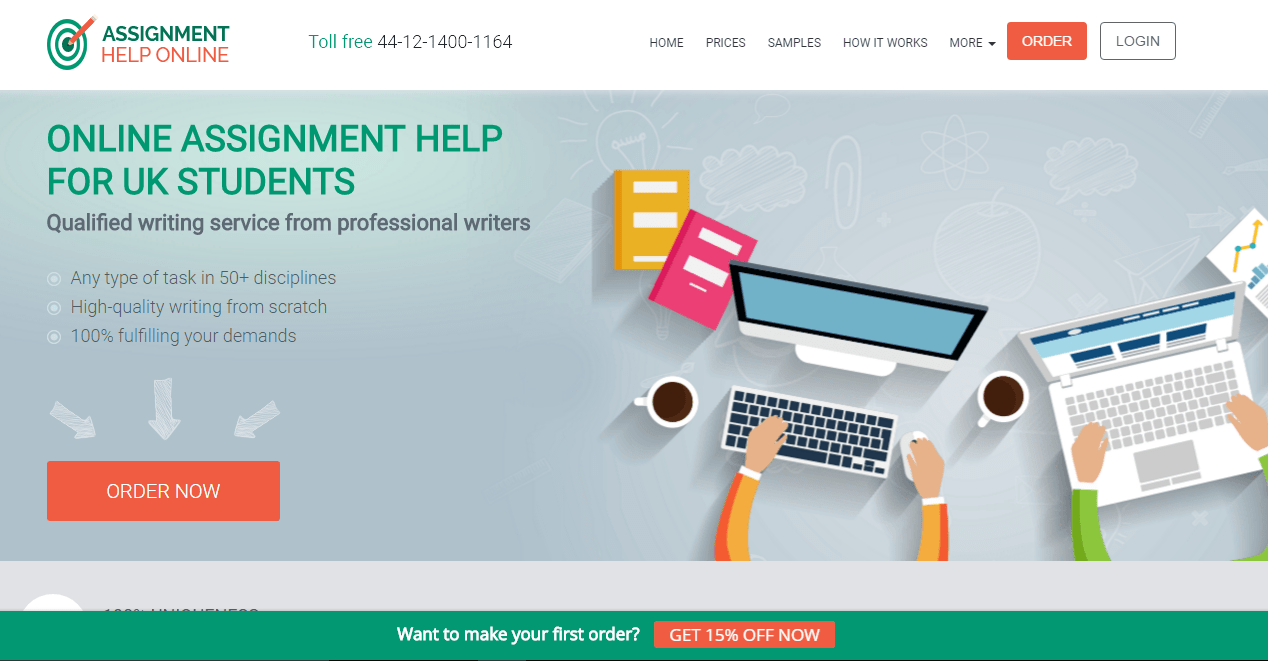 AssignmentHelpOnline.co.uk is a custom writing company that has been offering academic services to students for only a couple of years. However, the company has achieved a lot since its opening in 2015, offering a wide range of services written by over 2000 native English writers. Is it true that the company has two thousands of writers and they are all native?
Key Features
Custom-written papers
Double quality assurance check at a small additional fee
Low prices
Over 2000 native English writers
What Students Say
"A definite no for assignmenthelponline! I ordered my essay from this service and got it a day after the deadline. Now I cannot even get a reply from the agents when I ask for a refund." – Paula Owen.

"I paid for higher quality and got a paper that would fit the lowest quality and even a lower academic level. Even though this service is affordable, I would not recommend it if you want to get a good paper." – Curtis Gordon.
Choice of Academic Papers
Once we saw the claim that the company has over 2000 writers, we expected to see one of the biggest lists of writing services. However, not only this company does not offer any other paper than the most commonly requested ones, but they do not even have a Services page on the website! If you want to check the range of services, you would have to do this in the price calculator.
According to the list in the calculator, assignmenthelponline.co.uk offers essays, articles, research papers, research proposals, dissertations, coursework, term papers etc.
Prices at AssignmentHelpOnline.co.uk
Unlike the services, prices are clearly listed on the website, in the page 'Prices'. The cheapest essay costs £16.20for A-level and deadline of 10 days, while a PhD dissertation with the same deadline costs £56.06 per page. As you can see, prices are not really as low as one would expect by reading the website content. We would set them in the average category.
Discounts and Special Offers
Assignmenthelponline.co.uk offers a 15% discount for first-time customers. We are unsure if this discount will remain on the website, since it is not added to the content, but comes out as a special offer.
This is the only discount the company offers, which presents a huge disadvantage for students. Many writing services offer all kinds of discounts in the form of loyalty and bulk price reductions.
Quality of Content
Our experience with the service was the best way to check if all writers employed in the company are truly native and hold an MA or PhD. We ordered a Master's term paper with a deadline of 3 days and paid £86 for three pages. This was an affordable price but if we were to order another paper, we would no longer be able to use the 15% discount we used here.
The paper we got was worth the money we paid, but nothing higher. The writer was clearly native English, but we could see that he did not spend a lot of time on researching or writing our paper. There were several instances of typos in our content that indicated our paper was not proofread.
Is the Website Easy to Navigate?
The official website of assignmenthelponline.co.uk is easy to navigate, very simple in design and in our opinion, full of unnecessary content. Interestingly, the creators wrote too much irrelevant content, but still did not provide visitors with a Services or a Blog page.
Customer Care and Support at AssignmentHelpOnline.co.uk
You can contact the company via their 24/7 live chat and the toll-free phone number. In our experience, the live chat representative was very friendly and professional.
Conclusion
If you decide to order from Assignment Help Online, chances are your service will be in their list. You can also enjoy affordable prices, but the company does not offer any other discount than the 15% off for first-time customers. This makes it a bad choice for students who need a regular content provider.
Written by: BestBritishWriter
Service
Date published: 24/01/2017
3.9 / 10 stars